Our Volunteers
Volunteers
Amisah Zenabu Bakuri
Amisah's father died when she was in primary school. Therefore, she did not have it easy pursuing secondary education as the family struggled financially. Amisah received individual and educational scholarships from institutions and eventually went on to pursue a Master's degree in history. She then became the Northern Region Officer for Africa in Motion (AIM) in The Netherlands. She has also served as a Research Assistant at the Collaborative Research Group on Roads to Prosperity at the African Studies Centre, in Leiden, and the Alumni Ambassador for the University of Groningen. She was a Teaching and Research Assistant for the Department of History and Political Studies at the Kwame Nkrumah University of Science and Technology (KNUST), as well as a Vacation Trainee at Ghana News Agency (GNA), Sunyani.
Bakuri's leadership abilities have made her one of the most promising young women in Ghana. In 2011, Bakuri became the winner of the Peggy Appiah Prize for Excellence in History handed out by the Centre for Intellectual Renewal in collaboration with the department of History and Political Studies, KNUST. She was named the best student during the Silver Jubilee of Notre Dame Girls High School in 2012, and proved her academic prowess in College by graduating first in her class with a B.A. in History with honors, from KNUST. She has also received Honors Masters-Leadership and Research Master (ReMA) in Modern History and International Relations from Groningen in the Netherlands.
Judith Teiko
Judith graduated from Notre Dame Girls High School, and pursued a Bachelor of Science in Economic and Business Administration at Catholic University College of Ghana (CUCG), Sunyani, where she graduated with first class honors. Judith is part of the management team as the Cash/Credit Officer of DKM Diamond Microfinance Limited in Ghana at the Head Office in Sunyani. Prior to this, she was the Accountant of DKM Diamond Microfinance Limited in Ghana at Berekum Branch. Judith also worked with Woolley International School Nungua in Accra, Ghana and Miracle Preparatory School Sunyani as a class teacher. Those experiences later equipped her to be a teaching assistant at Catholic University College of Ghana during her National Service. Judith has also worked as a Radio Presenter and Secretary at SKY Broadcasting Limited (SKY FM) in Sunyani. Her diverse background in education, finance and media remains a great source of experience and talent that she brings to the management discussions at HopE Ghana.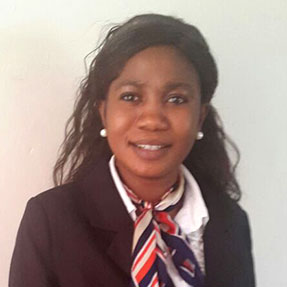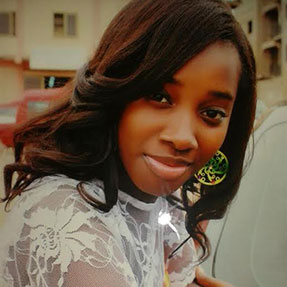 Agnes Agyemang-Barnie
Agnes is an accomplished young woman who is well known in Ghana as a strong and dedicated advocate for young women. She has been a Research and Teaching Assistant at Sunyani Polytechnic; a reporter for Graphic Communications Group Ltd; an attaché and volunteer for two nonprofit organizations—Latitude ICS and Voices of Inspired Children Engaging Society (VOICES). Agnes is also a member of Curious Minds, an organization that is dedicated to training children in using the media to become advocates for their peers who are not able to speak up and be heard on matters affecting their welfare.
In 2007, in recognition of her outstanding work, Agnes represented the Ghanaian Girl-Child at the United Nations in New York during the 51st Session of the Commission on the Status of Women Meeting that focused on "Eliminating Discrimination and Violence Against Girls." This hardworking and brilliant young woman holds a B.A in Sociology and Social Work from the Kwame Nkrumah University of Science and Technology, KNUST. HopE Ghana is fortunate to have her working on our behalf in Ghana and the United States.
Dumakuru Haruna
Since 2004, Haruna has been the ICT Coordinator and Instructor at Notre Dame Girls High School and for two years, was the head of Hardware Department at Bomag Computer Services, Sunyani. He has had periodic workshops and training in Information Communication Technology for Teachers and MTN Mobile Money for Teachers. Haruna holds a Bachelor of Education (BED) Computer Science from the Catholic University College of Ghana, Sunyani. He also has certificates in Computer Hardware and Software from Senramark Computer Services, Accra. Haruna is a hardworking, reliable and conscientious young man with a passion to excel wherever he finds himself.